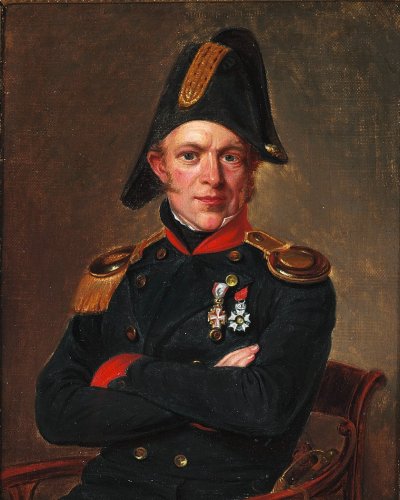 After Emilius Bærentsen: Portrait of Søren Ludvig Tuxen (1790-1856). Oil on canvas, 27 x 21 cm. Unsigned and undated (appr. 1837). Photo: Bruun Rasmussen (www.bruun-rasmussen.dk).
Søren Ludvig Tuxen was a Danish naval officer ending with the rank of commodore.
Tuxen was not only a brillian leader, he was also a man of good heart. The story goes that he commanded a shipbuilder Anders Petersen whose wife asked for his demobilization due to her pregnancy. Tuxen granted their wish, for which reason their first born son was named after him: Søren Ludvig Tuxen Petersen (1857-1900). After him, a new family has been named Tuxen - both in Denmark and in USA - without otherwise being related to the family Tuxen.
The painting shows Tuxen with the rank of captain. The Danish National Historic Museum at Frederiksborg Castle owns a version of this painting, signed and dated 1837. There is also a later lithography based on the above painting.