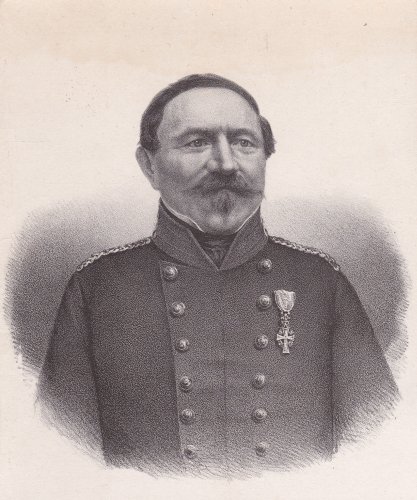 Portrait of Christian Frederik August Tuxen (1797-1850), artist unknown. Lithograph by Moldrup & Giere's Publishers and Prints.
Christian Frederik August Tuxen was a Danish army officer, ending his carreer as a major.
Tuxen was married twice, 1) to Frederikke Elisabeth Sommer (1803-34) and 2) to Johanne Mariane Jensen (1811-89). He also had a longer lasting relation to Johanne Wilhelmine Heide (1803-54). He had 8 children and a major posterity.
INQUIRY: Although I am convinced that the painting behind this lithograph still exists in the family, I do not know where. If you happen to know anything about the painting, please contact me.