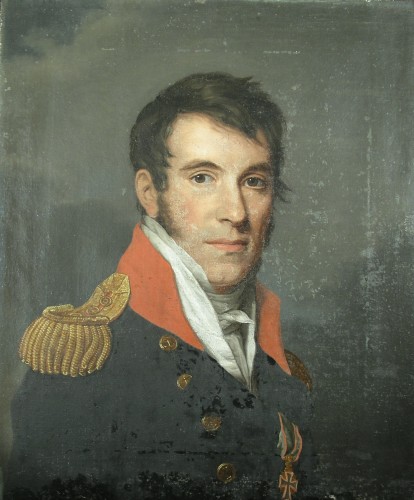 Portrait of Peder Mandrup Tuxen (1783-1838), artist unknown. Oil on canvas, 62.5 x 52 cm. Private collection.
The notorious Peder Mandrup Tuxen was the progenitor of most of the Tuxen family living today. He was a naval officer, ending with the rank of commander/captain. He participated in the wars against England and was decorated with the Danish order of the flag Dannebrog for a battle in which he put an English frigate to flight with only a few cannon boats. On the portrait he is wearing the uniform of a lieutenant and as the epaulets on this uniform were not used after 1812, the painting can be dated appr. 1809-12. My thanks to Knut Erik Strøm for information about the uniform details.
Peder Mandrup Tuxen married in 1810 with Elisabeth Marie Simonsen (1786-1867) of whom there is a portrait of the same size and framing. Peder Mandrup Tuxen was often portrayed. See also the pictures P3 and P4.
Read more about Peder Mandrup Tuxen and his family in this article.