---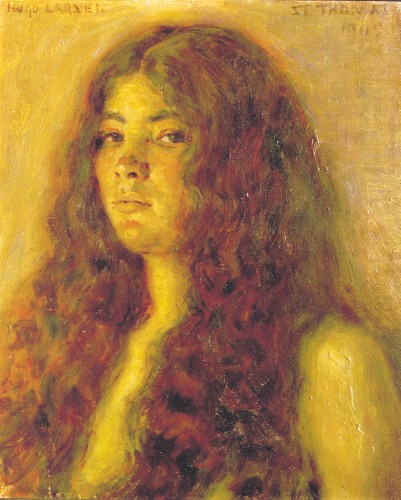 Hugo Larsen: Portrait of a young Woman, marked St. Thomas 1905. Oil on canvas, 45 x 37 cm. Private collection. Private photo.
"[..] The woman is viewed in semi-profile, in a half-length portrait, her lips closed; her eyes, however, in contact with the viewer. Her powerful red hair covers part of her face and her bare breasts, only her naked shoulder is visible. She is aware of the viewer, but at the same time in control of what the viewer is allowed to see. [..] She emerges from the picture like a glowing flame.
She has a reserved, somewhat sullen expression. It is not a femme fatale that Hugo Larsen wanted to paint, rather a natural, erotic force. A comparison with Paul Gauguin's Tahiti girls comes easily [..]"
[Curator Helle Brendstrup in the book "Hugo Larsen in The Danish West Indies 1904-07". Translation: Nina York]
---
The layout of this page has been made with an external Cascading Style Sheet (CSS). If you see this text, your browser most likely does not support CSS. I have done what is within my power to make all contents visible in all browsers, but the layout will no longer be visible in browsers that do not support CSS.