---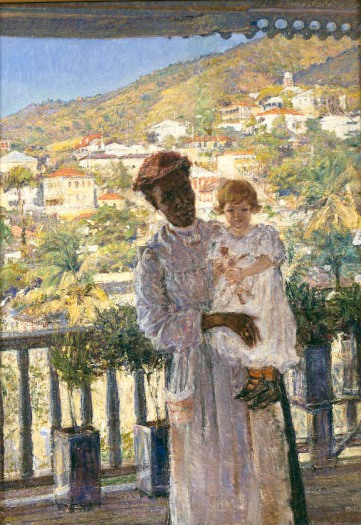 Hugo Larsen: "Nanny with Baby", marked St. Thomas 1905. Oil on canvas, 69.5 x 48.9 cm.
Owner: Danish Maritime Museum (www.maritime-museum.dk)
Photographer: Kirsten A. Jappe
"[..] Despite the pronounced idyllic character of the image, it also represents the meeting of two worlds: White and black, master and subject. Artistically, this contrast is emphasized by the balustrade separating the white, private home from the black community outside. The balcony lies in comfortable shade, the town in a merciless haze of heat - the black nanny with the white girl repeats the same motif."
[Curator Helle Brendstrup, painting analysis at the Øregaard exhibition. Translation: Nina York]
---
The layout of this page has been made with an external Cascading Style Sheet (CSS). If you see this text, your browser most likely does not support CSS. I have done what is within my power to make all contents visible in all browsers, but the layout will no longer be visible in browsers that do not support CSS.