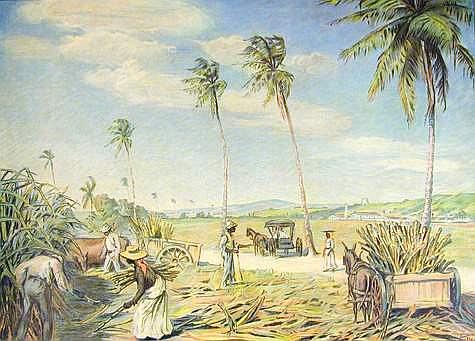 Hugo Larsen: Sugarcane harvest, St. Croix, (1910), colour lithography, 66.5 x 88 cm.
Immediately behind the sugar cane field you see the Centerline Road, connecting Christiansted and Frederiksted. In the background is a sugar factory with chimney and sugarmill. I was originally told that these were buildings of the plantation Bethlehem, one of the last sugar factories in operation on St. Croix. I have since been taught that we are more likely looking at Estate Adventure. As this lithography was completed after Hugo Larsen's return to Denmark, it was probably either based on one of his own sketches or on a later photography. Should you by accident recognize an old photo from the same perspective, please let me know.
Thanks to the Danish School Museum for permission to reproduce its copy of the poster.