---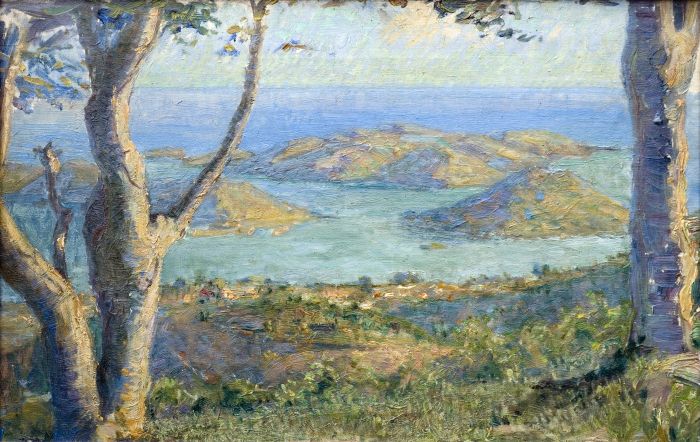 Hugo Larsen: View from the Hills above Charlotte Amalie. Signed on the reverse and marked St. Thomas 1906. Oil on canvas, 36 x 57.5 cm.
Owner: Knuthenborg. Photo: Finn Brasen.
"[..] This painting is among his best and is in interpretation and expression closely linked to the French Impressionist painter Paul Cézanne (1839-1906). The style of painting with both is pictures dominated by quick brush strokes, and by the same value of colors in the foreground as in the horizon, a feature contributing to reducing the sense of depth of the image. The shadows are painted in blue, Cubist planes — no attempt has been made to eliminate the transition between light and shadow. The picture can almost be described as one of colored planes making sense when seen at a distance but up close dissolving into an orgy of colored dots. [..]"
[Curator Helle Brendstrup in the book "Hugo Larsen in The Danish West Indies 1904-07". Translation: Nina York]
---
The layout of this page has been made with an external Cascading Style Sheet (CSS). If you see this text, your browser most likely does not support CSS. I have done what is within my power to make all contents visible in all browsers, but the layout will no longer be visible in browsers that do not support CSS.