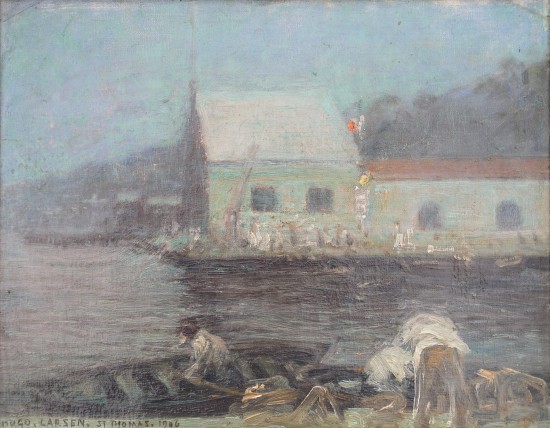 Hugo Larsen: Harbour Scene, marked St. Thomas 1906, oil on canvas, 25 x 32 cm.
"[..] In this fine picture he portrays fishermen in the moonlit night engaged in arranging their gear. [..] In the distance, other buildings fade out of sight along the breakwater – the roofs shining with a greenish white light in the lunar night, evoking a sense of the supernatural.
The picture is one of the best and most thoroughly impressionistic that Hugo Larsen painted, precisely because he is primarily focused on the light and its effect on the surroundings. Well-defined contours representing shapes are partially omitted in place of plain brush strokes, and saturated dabs of color, such as those representing the men's white shirts.
[..] Hugo Larsen clearly masters this impressionistic way of painting, and it is hard to imagine that he did not see and receive inspiration from Claude Monet's (1840-1926) work, Impression: Soleil levant from 1872."
[Curator Helle Brendstrup in the book "Hugo Larsen in The Danish West Indies 1904-07". Translation: Nina York]